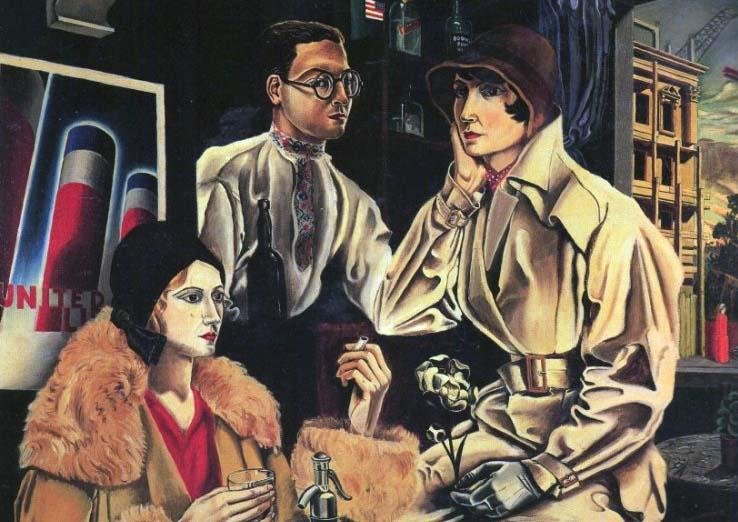 Not to be confused with Ezra Pound's Imagism or Russian Imaginism, the Movimento Immaginista (Imaginist Movement) was an Italian artistic movement, with strong ties to Italian Futurism. It was created independently in 1927 by a group of young left-wing artists with the aim of bringing together all avant-garde movements.

The group included among others Umberto Barbaro, Dino Terra, Paolo Flores, Ivo Pannaggi and architect and painter Vinicio Paladini.
Vinicio Paladini (Moskow, 1902 – Rome, 1971) was an architect, painter, graphic, interior and industrial designer, art theorist, and writer.
He was born in Moscow to an Italian father and a Russian mother, but from 1903 he settled in Rome with his family. Of socialist and pro-Soviet political ideas, he joined the Futurist movement borrowing from Aleksandr Bogdanov the idea according to which Futurism was an anti-bourgeois movement and as such would have favored the revolution.
From 1922 he participated in Futurist exhibitions and events, frequently collaborating with Ivo Pannaggi with whom, in the same year, he wrote the Manifesto dell'arte meccanica futurista (Manifesto of Futurist Mechanical Art). In parallel, he became interested in the Soviet avant-garde, sympathizing with Bolshevism.
In 1923, he signed the Manifesto I diritti artistici propugnati dai futuristi italiani. Manifesto al governo fascista (The artistic rights advocated by the Italian futurists. Manifesto to the Fascist government), only to distance himself after having read the published version of the document that, in his opinion, was too pro-Fascist. However, he remained in the movement at least until 1927, when he joined the Imaginist Movement.

And it was Paladini who designed the emblem of the movement which features two cogwheels representing the double movement of decomposition and recomposition of everyday reality that the movement set out to do in order to achieve a new reality "freed from economic coercion and moral hypocrisy." (Achille Castaldo and Carmen Van den Bergh)

We think that the Imaginist Movement emblem is awesome, both graphically and for its meaning, so we couldn't resist printing it on a t-shirt.